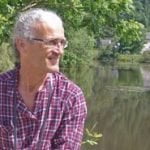 In today's newsletter, I would like to share my appreciation and recommendation of  Dr. Roland Guenther's Shameeah course. First you might be asking yourself. What is a Shameeah? Dr. Guenther defines a Shameeah as a sacred ceremony of communion with nature, the mechanics of which come from homeopathy, the energetics from alchemy, and the ceremonial aspect from the wisdom of indigenous peoples. To learn a more in depth understanding of a Shameeah read his full explanation here (downloadable document).
After participating in more than one Shameeah ceremonies with Roland, here is what I know to be true:
"Exploring life with a gifted, knowledgeable enthusiastic and joyful guide enlightens and enriches. Whether it is a spiritual director for your inner quest for meaning or a Sherpa taking you on highest mountain peaks. When a guide is respectful of the inner terrain of the person and the outer terrain of the environment, you can safely enjoy the journey.

Such is the Shameeah journey with Dr. Roland Guenther. His respect for all of life and his curiosity about nature make him the ideal guide for you to experience and unlock the energetic mysteries of our created world. His wisdom and considerable knowledge ensure that your experience will be safe as you enter into a practical yet mystical journey.

The process is meditative and lengthy. Each stage of the trituration (grinding and scraping) is individually recorded and eventually shared as a group. Collectively, the substance reveals its nature. Everyone is changed. You finish the Shameeah knowing that Nature has revealed a healing secret and that you are in the field of the Sacred.

Having experienced a Shameeah first hand with Dr. Guenther, I would highly recommend attending any sessions he offers. If you long to connect with nature and with others; if you want to understand how substances can heal; if you want to understand the meaning of Shameeah, sign up and learn how we can humbly turn to the created world to help heal an ailing humanity." – Donna Powers
To learn more about Dr. Guenther's Shameeah training visit here.
You can also find a video interview with Dr. Roland Guenther in the second issue of Homeopathy First Magazine. You can watch a sneak peek of the video here. Enjoy!
Yours in health and healing,
Donna