Getting started with homeopathy
6 steps to get you started First, watch Everything you wanted to know about homeopathy but were afraid to ask video below.
(15 minutes approx.)
How much? How often? How strong?
This is an affordable course that will likely answer all your questions that I know I had when I first started out using remedies at home for sick kids and adults.
After watching the video of Everything You Wanted to Know About Homeopathy but Were Afraid to Ask, your last three questions are often – how many granules do I give (dosage)? How often do I repeat a remedy (repetition or frequency)? What strength (potency – the number on the remedy vial)?
Ready to put your first home/travel remedy kit together?
Here are some remedies to get you successfully started:
How do I choose homeopathic remedies? What is the best medicine in homeopathy?
Most people are introduced to homeopathy because they tried at least one of these 5 remedies and had a happy measure of success!
Arnica 30

For muscle aches, pains, strains and anytime you have overdone any kind of hard work such as yard work, the gym, housework with heavy lifting. Or maybe you have used it because you had a fall or car accident – anytime you have the sore, bruised feeling anywhere. Brilliant for any head injury with swelling and bruised sensation.

Chamomilla 12 or 30

Often thought of for teething in babies. Angry, irritable, cannot be consoled and the pain and inflammation are unbearable. And not just for babies! Dental pain with the same feelings? Good for adults too.

Belladonna 30

Usually one of the first remedies to consider for fever with flushed face, dilated pupils (even when the light is turned on in the dark, the pupils are still black and just about fill up the colored part of the eye, the iris). Or…sunstroke. Overheated is the key indication, with throbbing, pulsating pains.

Aconite 30

The first remedy to think of when fear or anxiety anticipating an event takes over. Think – dental or medical appointments, school exams, fear of getting sick or any event that leaves the child or person in shock. Arnica and Aconite alternated are helpful in getting over serious accident and injury.

Bryonia 30

Considered the 'grumpy bear' of remedies. Not wanting to move, irritable at being disturbed both by others and by the symptoms. Also known as 'dryonia' because of its desire for large quantities of liquid all at once and then nothing for a long time. All complaints are worse for moving whether a sore throat, a cough, a flu, or a headache. 'Leave me alone' is the mantra of someone who needs Bryonia.
How do you know if a homeopathic remedy is working?
Hopefully you can see that each of these remedies has something characteristic about it – whether it is a feeling with a physical sensation. Then match the person's feelings and sensations to the remedy and you will likely have a good result.
Arnica

Muscular pain improves, and black eyes do not appear! Swelling and lumps disappear.

Chamomilla

The dental pain, teething frustration improves or disappears.

Belladonna

The throbbing/pulsating headache goes, no sunstroke, the fever breaks and the illness moves toward healing.

Aconite

The anticipatory anxiety leaves and the person can be calm and focussed at the scary event. Or…the shock is mitigated. Calm in a crisis comes to mind.

Bryonia

The 'Grumpy bear' returns to the cuddly bear. Motion or movement no longer is painful.
Add 5 or 6 more remedies and make it a 10 or 11 remedy kit?
How many days should you take a homeopathic remedy?
Are there any rules for taking homeopathic medicine?
Who should not use homeopathy on their own, without a homeopathic practitioner?
What is the best way to store remedies once opened?
These questions and more are answered in these downloadable PDF's.
Download the 5 Remedy Kit PDF and the 10+ Remedy Kit and get started today with your homeopathic kit for home and travel!
Where can I buy remedies or a homeopathic remedy kit?
A search tip – usually 'homeopathic pharmacy and your location or country' will give you some suggestions. Below are pharmacies that I either know, have used, or could recommend from their reputation and longevity.
Books and online journals to get you started
Homeopathy 4 Everyone
Monthly journal
This is an excellent journal. Find cases of acute illness, be introduced to homeopaths all over the world, learn remedies, discover books and more.
Mastered your 10+ home kit and want to add more remedies to your repertoire?
You are ready to jump into some of my courses!
Get ready to gain more confidence in using your homeopathic remedies safely and successfully in your home medicine cabinet or kit!
Are you ready to learn about tissue cell salts?
Did you know? You can use the Salts as a way to prevent and support a healthy immune response in any infectious illness outbreak (like a Corona Virus) by using Ferrum phos for the very first stage of inflammation/fever and then Kali mur for the second stage of inflammation. Learn how by registering today.
Many people buy their first homeopathy kit and wonder how to use the remedies!
In this series, you will discover what remedies to use for any kind of accident, injury or illness throughout childhood and beyond. It is a beginner series and we will take you back to the very beginning.
Every week throughout the year you will discover an effective new remedy that you can use to help support healing and prevention in outbreaks for your loved ones.
You've made the decision. You are going to learn how to educate your child's and your own immune system naturally.
You understand that kids get sick. Adults get sick and you want something natural, safe and effective without side effects to get through the worst of the physical symptoms.
You want to ensure that you, your children and grandchildren can be assured of lifelong immunity.
Do you need to know what to do for your kids when they get sick with a serious infectious illness?
Whether you are a vaccine free family or a vaccinated family facing outbreaks in the vaccinated population, can you learn to prevent and treat infectious illnesses like measles and mumps without going to medical school?
By knowing what to do, how to support healing and how to use homeopathy, you can help your child move through every illness…even the most infectious diseases, whether fully vaccinated or vaccine free.
As events happen in the world and at participants' request, I add courses from time to time. In the line up? Coronavirus. Oral Dental Health Eczema. Sports injuries. Pre and Post Surgery.
Be sure to sign up for the newsletter so that you are in on the offerings.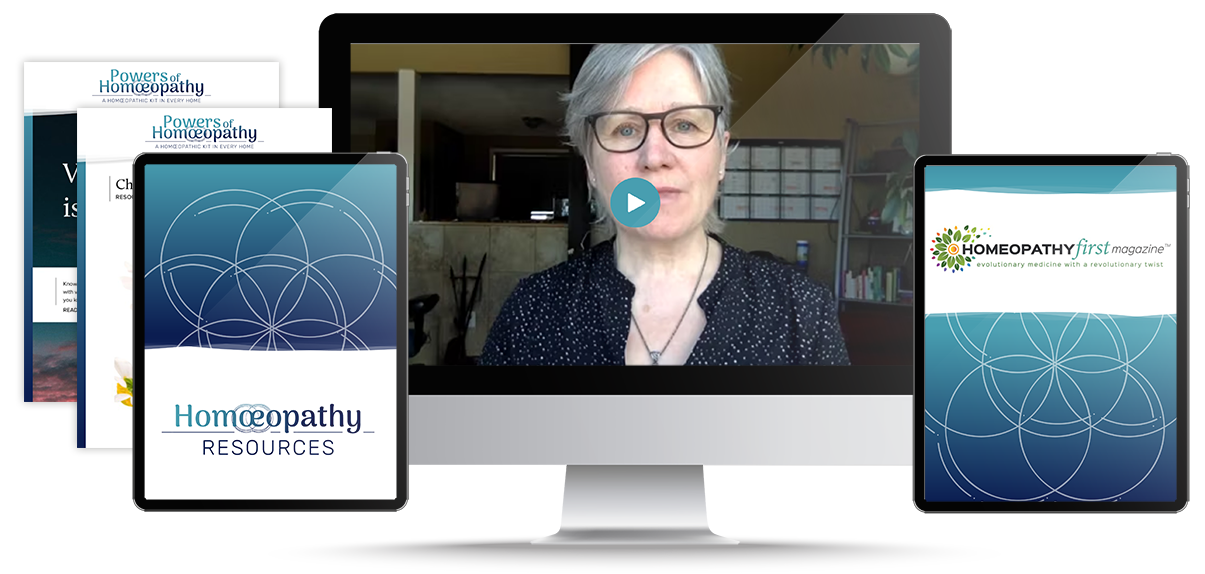 The Homeopathy Starter Kit is a collection of homeopathy courses, a digital magazine, and eBooks focusing to start you on your journey!
Enter your details to download your
FREE Homeopathy Starter Kit today!