Maybe like me, you vaccinated your kids in the 1980's. It was what a good parent did to make sure that your child had life-long immunity (yes…that was the promise – immunity) to infectious illnesses like diphtheria, tetanus, whooping cough (pertussis), measles, mumps, rubella and haemophilus influenza. There were no questions asked. You were told that it was safe and that was the end of the conversation. Now we know – the promise of immunity was incorrect, hence all the booster shots for 30-somethings and for school age kids. And now it is essential that you research and make informed decisions about vaccination and study vaccine safety issues.
And according to a recent publication by the National Vaccine Information Centre in the USA there is a whole new dynamic at work:
Both unvaccinated and vaccinated individuals are at risk from exposure to those recently vaccinated. What to do?
Remembering the 80's
Whole generations of children in that same time period of the 1980's were diagnosed with ADD/ADHD/ODD, chronic ear infections, asthma, allergies, eczema and the late 80's were beginnings of the upsurge in autism.
Rates of autism have gone from 1 in 10,000 in the 1980's to 1 in 68 (1 in 42 boys) in 2015. See the data here.
Maybe you too have vaccinated your babies and now vaccination is not possible anymore because of vaccine injury or adverse reaction or even auto-immune disease.
"February 16, 2010 — The rate of chronic health conditions among children in the United States increased from 12.8% in 1994 to 26.6% in 2006, particularly for asthma, obesity, and behavior and learning problems, according to results of a new prospective study published in the February 17 issue of the Journal of the American Medical Association.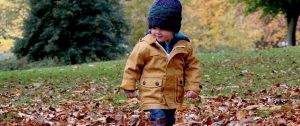 "…and chronic disease rates are increasing at 14% each year.
3 out of 5 Canadians older than 20 have a chronic disease
4 out of 5 are at risk." See the reports here.
Maybe you have never vaccinated your babies/kids.
Whatever your choice, past or present, it is vital for you to know what is currently happening.
Both unvaccinated and vaccinated individuals are at risk from exposure to those recently vaccinated.
Vaccine failure is widespread; vaccine-induced immunity is not permanent and recent outbreaks of diseases such as whooping cough, mumps and measles have occurred in fully vaccinated populations. 16,17 Flu vaccine recipients become more susceptible to future infection after repeated vaccination.18,19.
This is a must read document with highlights about virus infection, shedding and transmission from the National Vaccine Information Centre.
"The Emerging Risks of Live Virus & Virus Vectored Vaccines: Vaccine Strain Virus Infection, Shedding & Transmission"
Could my unvaccinated or immune compromised child get sick from coming in contact with a recently vaccinated person?
When it comes to live virus vaccines, the short answer is: Yes.
Although public health officials maintain that live attenuated virus vaccines rarely cause complications in the vaccinated person and that vaccine strain viral shedding rarely causes disease in close contacts of the recently vaccinated, it is important to be aware that vaccine strain live virus infection can sometimes cause serious complications in vaccinated persons and vaccine strain live viruses can be shed and transmitted to others with serious or even fatal consequences. See full report here.
Measles
Not Known How Long Vaccine Strain Measles Virus Infection and Shedding Lasts
In 2013, Eurosurveillance published a report of vaccine strain measles occurring weeks after MMR vaccination in Canada. Authors stated, "We describe a case of measles- mumps-rubella (MMR) vaccine-associated measles illness that was positive by both PCR and IgM, five weeks after administration of the MMR vaccine." The case involved a two-year-old child, who developed runny nose, fever, cough, macular rash and conjunctivitis after vaccination and tested positive for vaccine strain measles virus infection in throat swab and blood tests.
Chicken Pox
It is possible for healthy children and adults to transmit vaccine strain varicella zoster infection to other healthy children and adults. However, immune compromised persons are at special risk for contracting vaccine strain chickenpox infections and suffering complications.
Generally, it is advised that persons recently given chickenpox vaccine avoid close contact for at least six weeks after vaccination with potentially susceptible persons, such as immune compromised persons, pregnant women, newborn infants and premature babies, especially if a rash develops after vaccination.
Shingles
Both the manufacturer and the medical community caution susceptible individuals, including pregnant women, newborns, and those with a compromised immune system to avoid close contact with anyone who has been recently vaccinated with either live varicella zoster (chickenpox) or herpes zoster (shingles) vaccines.
There is no active surveillance of live virus vaccine shedding and most vaccine strain virus infections likely remain unidentified, untested and unreported."
Please read this report for your self. All of the research is supported by medical research and documentation from scholarly sources.
For the last 20 years, I have been reading, researching and preparing for this moment in time when the risk of infectious illness is possible in the vaccinated as well as the unvaccinated populations. Virus and bacteria evolve, mutate and they also have an important role in the human microbiome and our health and evolution. Virus and bacteria are not going away any time soon, vaccines or no vaccines.
So how do you prepare and support healing in the event of outbreaks of infectious illness? One way is to sign up for the Vaccine Free: Now What? Course. Homeopathy can support healing and has a 250-year history of doing just that.
What Does It Mean to be Vaccine Free?
Being vaccine-free means:
You understand the importance of having an alternative/complementary system of medicine in place. You understand the importance of knowing what the infectious childhood diseases are and their possible complications.
You understand that over the counter medications and prescription medicines can be life saving in emergency situations but that they can also contribute to weakening the immune system with serious side effects in long term use
You understand that you are exercising your freedom to choose and that you accept full responsibility for your own and your children's health and well-being. You know and work co-operatively with the medical system and your complementary health providers in an honest and open dialogue about what is best for your family's health needs.
You continually educate yourself about health, illness, nutrition, exercise, stress, and sleep.
You have a support group in place while raising your children: family, friends, parent groups, playgroups, teachers, doctors, and practitioners.
You understand and respect everyone's right to choose what is best for him or her when it comes to his or her family's health.
You know that you can agree to disagree respectfully when values and opinions differ from your own.
You understand the risks and fears of others who choose differently re: being vaccine free.
The Vaccine Free? Now What? course will help you find all the resources and information you need to keep your family healthy and well, in any sickness.
From some of the past participants who are now part of a private FB forum where we help each other when our kids/grandkids are sick:
"Being vaccine free means claiming your own power as a parent. One of the greatest gifts we have is to choose for ourselves and not be trapped by what others think. Being vaccine-free means listening to all sides of an issue and making a decision by following both your head and your heart. It means taking responsibility for your health by learning about homeopathy to treat childhood disease and also by being conscious of excellent nutrition and health building practices to contribute to strong and resilient children. Be confident in your choice, whatever it is and do not feel the need to explain or apologize to anyone." -Kathleen, Alberta

"Vaccine free means to me that we get to trust in our bodies and in nature. It means we get to take full responsibility for our health.  Learning about homeopathy for treatment of the illnesses is integral and reassuring." -Lindsey Calgary, AB

"I feel so blessed to have found Donna. We can't imagine being parents of a vaccine free child without her. The knowledge she has willingly shared is invaluable. The community of like-minded parents has been such a support system in this present world. They have been an inspiration to be a better mother." -ES

"The most important thing I learned it to stick to your guns and do research before just submitting to allopatric care.  The info will definitely help me when it comes to health decisions regarding my whole family, not just my daughter.  I would suggest this course to others and let them know that there is valuable info regarding how our bodies work naturally to keep away sicknesses and we need to trust and take care of ourselves in order to ward off illnesses.  Thanks again for everything!" -Kristin

"Everyday I believe more and more how powerful education is ….,that you have to seek it, to ask questions, to not walk blindly into a conversation pushed by fear.  That, as we open up these fears and really look at them, we are not powerless and we can make informed choices. I have never felt so strongly that respecting some one for their choice so long as an informed choice is important." -CB

"The VFNW Facebook group is a fantastic addition to the course. As a non-vaccinating parent, it is so wonderful to have access to a group of like-minded individuals. You can ask questions and have discussions without fear of judgment and rude comments. The group has been invaluable to me and very helpful any time I've had a question. It's actually one of my first go-to's when any of us are experiencing an illness or ailment." -DPR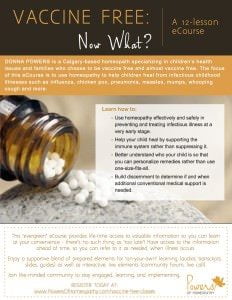 You can 'test-drive' the course with a free measles class.
You can study one infectious illness at a time or
dive in for the 12-weeks of information.
Study at your own pace as this is an evergreen course.
Your time, your pace with live check-in phone calls with from time to time, access to a great support group (which includes me!) on the FB forum and all questions can be asked and answered.
Yours in health, healing, freedom to choose and homeopathy,
Donna