Just when all the excitement around my husband's heart attack started to settle, he must have figured it was time to create another stir. This time, his back end met a flight of basement stairs…from the very top down to the very bottom! Wooden risers all the way to the concrete floor at the end of the slide…bumpety-bump all the way. My poor daughter-in-law can't look down their basement stairs without seeing his body slumped, face down and his arms/legs bent backward.
But his bones are strong and nothing was broken…well…maybe his tailbone but like broken toes, not much conventional medicine can do for a person with that kind of a break.
Because he is on blood thinners post angioplasty and stent insertion, the bruising started right away. The blood started pooling into hard lumps of swollen tissue. You could actually see the imprint of where backside met stair riser. This is Mr. Tough guy (think Arnica) and even he asked if he should go to emergency. This was a time I said 'Call Health Link' (bleeding, breaking of bones, breathing, brain injury and you are on your way to urgent care) and see what they suggest. Me, Mrs. Tough gal, was concerned about the shape/swelling and the effect of blood thinners and injury. Health Link suggested urgent care.
We were glad we went. The doctor on call could see right away from the injuries that indeed, Ron had likely hit every stair on the way down and said, 'Gee…looks like you did a Looney Toons cartoon tumble.' Ron said, 'That's exactly what I was thinking when I was bouncing down the stairs!' (What is it that makes even the most serious fall down the stairs or a trip while walking make you want to laugh? Especially when it is someone else! Weird. And not funny at all.)
Bless his heart…the doctor checked all Ron's medications and suggested he talk to his family physician and see if he could come off some of the drugs. The doc's philosophy? Less is better when it comes to drug treatment. How refreshing!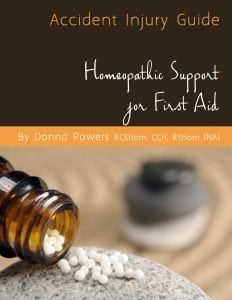 Arnica and Hypericum have been extremely helpful for Ron but he has also had to take some over the counter pain medication. The doctor warned him to take only acetaminophen (Tylenol) and not aspirin or ibuprofen (Advil, Aleve) as they thin the blood as well. Good to know!
We have also used Rhus tox (stiffness, restlessness, better with moving and craving for ice cold milk) to help support healing. So today, here is a free Accident Injury Guide with links to helpful articles and remedy suggestions. You just never know when someone you love will need homeopathic remedies on your way to urgent care!
I welcome your comments below, and enjoy responding.
Yours in health and healing,
Donna