Have you ever had an experience of nature and wondered if perhaps there was some personal significance, message or meaning in the event, in the encounter between human and animal or force of nature?
Often times, it is the dramatic that catches the imagination. A random sighting of a hawk or eagle in flight, mountain goats or grizzly sightings in the Rockies as you drive through the mountains, northern lights dancing across the midnight sky or the chickadees in the Inglewood bird sanctuary who will sometimes land on the outstretched hand, hoping for a bit of food.
What could it mean that a dragonfly has come into a person's life? A hummingbird? Maybe a snapping turtle at the cottage?
What could it mean that a magpie has landed on my husband Ron's outdoor napping bed? Is there hidden meaning in a magpie hopping into his storage garage and nattering away at him while he moves construction supplies around? Ron has been surrounded by magpies the last couple of weeks, in a significant way. Does magpie have a message for him? We did look it up in Animal Speak by Ted Andrews and it is interesting! That's maybe for another newsletter though.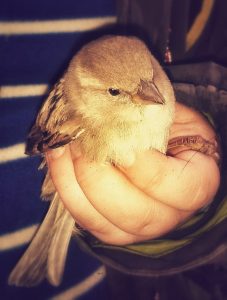 Sparrows, not magpies, have been my messengers from nature. Many have found their way down the flu of the chimney of the wood stove, panicked and fluttering, stirring up the ashes of a long burned out fire (thankfully burned out and cold fire). I catch and release at least a half dozen sparrows in the spring and again in the fall. Some fly out of the wood stove and land in the fig tree or fern, and seem calm and quite happy to sit for a bit. Those are the easy ones. I simply open the doors and at some point, they find their way back out into the world.
Sparrows are maybe not as glamorous or as noisy as magpies and can be easily overlooked. But I do love their hardiness in spite of their tiny size. They survive our Canadian winters and that is heroism in my books! They sing, they are busy and they seem to have the ability to overcome great odds.
So what do sparrows showing up in my life mean for me?
While sitting at the breakfast table, sipping coffee and doing the morning crossword puzzle…THUD…the sound of a feathered friend hitting the glass window. How it managed to hit the kitchen window so hard on the back deck I am not sure because the little thing would have had to make it through the 5-foot opening where the BBQ sits, over the deck and into the glass.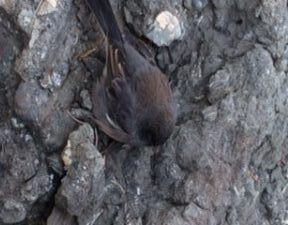 When I went to see if it might possibly still be alive, I found a little sparrow, lying on its back, eyes blinking and heart visibly beating in its chest. I reached down to pick it up and with no resistance on its part whatsoever, I knew it was in shock and likely hurt quite badly. I held it until its heart slowed down and gently placed it on the deck edge, hoping that once the shock was gone, it would simply fly away. It did flutter but landed on the deck…not a good place to be. I had visions of it panicking again and flying toward the bay window rather than heading out into the wide open.
Once again, it allowed me to pick it up. This time I headed through the house, into the front yard where I placed it on the big rock near the small fir tree to give it time to recover and rest before hopefully taking flight.
I left to answer emails. Every once in awhile over the next half hour I would check to see if it was still there. Yep. Hmmmm…was it going to die? Was there anything I could do? Arnica. Maybe I could give the little thing a drop of Arnica. Into my kit, find the Arnica 30, crush it in a crystal whiskey glass (don't drink whiskey so a good reason to bring out the crystal!), add a bit of water, stir and then…hmmm…how to give a tiny sparrow an even tinier dose of Arnica? Maybe it was still shock and/or injury but the wee thing let me put the small teaspoon of remedy to its beak where I left a drop that would hopefully be absorbed.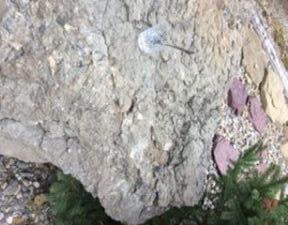 I am an imaginative person but I would swear to you, that it looked like that feathered friend got sleepy (a good response to a remedy). Either that, or the likelihood of it dying was real. Again, I kept checking over the next half hour…no movement. Darn. Then I was busy on calls and after a couple of hours I looked out and the bird was gone. Arnica healing the shock and the injury? Of course I would like to think so. Why not?
And the message of the sparrow from Ted Andrew's Animal Speak book?
"The sparrow will show you how to survive. It will awaken within you a new sense of dignity and self-worth, helping you to triumph in spite of outer circumstances. The song sparrow is very symbolic of this. It has three spots in the form of an inverted triangle on its throat and breast. This reflects a drawing down of energy to awaken the heart and the throat centers. It is the assertion of will to bring out the inherent dignity so it can sing forth in your life. This is what the sparrow can teach."
 The meaning for me? In spite of the worries about speaking up about vaccine injury to many, launching a magazine app and the many other outer circumstances of toxins/poisons occurring at this time in history, I can maintain dignity and self-worth and speak out and sing about all that is good and beautiful and healing. Small can be powerful. Healing can be powerful. And if you have ever heard sparrows singing en masses in spring nesting time, you will be attuned to the power of song.
Here's to Arnica.  Here's to messengers from nature and here's to gratitude for all that is good. And for those who are curious, there is a homeopathic proving of sparrow. Maybe there is another kind of message in sparrow medicine that is right for you?
The Homeopathic Proving of Sparrow
Yours in health and healing,
Donna