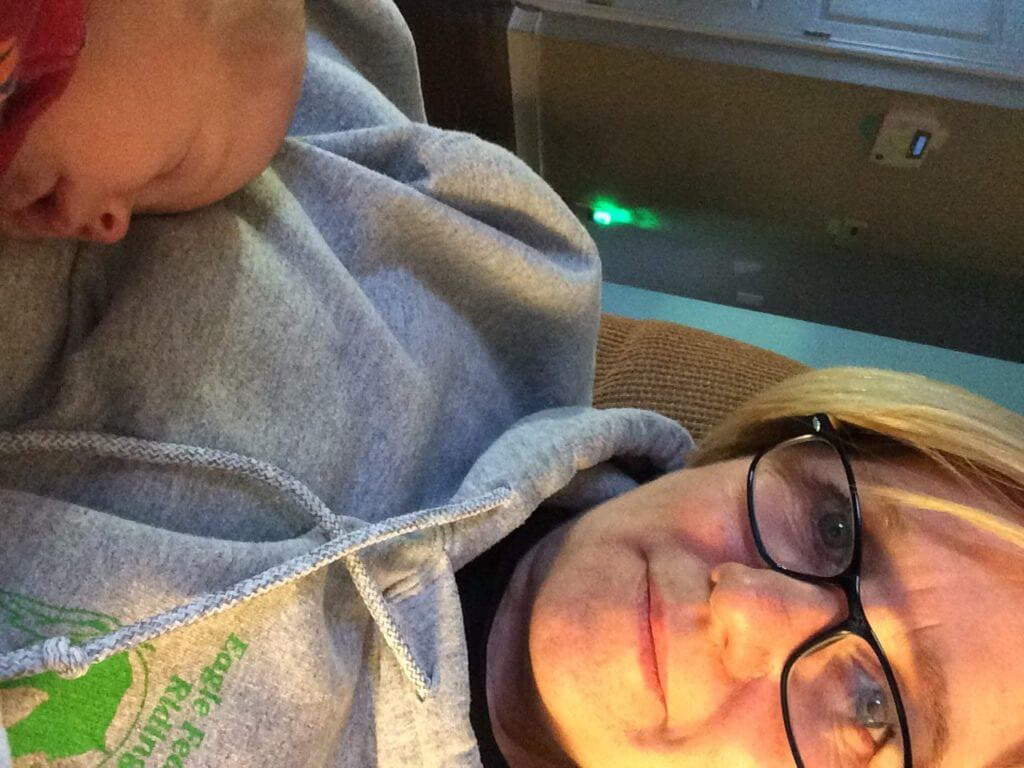 Make me sweet again,
fragrant
and fresh and wild,
thankful for
any small event.
– Rumi
Small for me is our tiny grandson Odin. His needs are simple…warm milk, dry diapers, sleep, being held, learning how to smile, learning how to reach, playing in the bath water, watching the snow fall and the wood stove burning…seeing life for the first time through new eyes. When I sit with Odin, the world becomes sane once again and simple. So very simple.
The BIG World
Recently on Facebook there have been a number of posts filled with hate and rage. Friends unfriending friends, negativity, chaos and polarizing positions on issues that affect us personally. Attitudes and beliefs are being challenged at every turn. Deep feelings within us have been awakened. Many are 'leaving Facebook', turning off social media and news feeds, taking a break and only listening to 'good news'. This is a strategy and likely a good idea on many levels. You will know what you need.
For me, this is not an either/or response. I want my response to be both/and…I want to stay on social media, savor the 'small' moments in my life, be grateful for them and at the same time witness the chaos, rage and violence. I choose to go within myself to explore what is happening within and what my feelings are that move me to places of fear and anger.
Fear is at the heart of so much in this current political state of affairs, and as Brother David Steindl-Rast at gratefulness.org says fear begets violence.  And violence can be found within our own hearts.
"Violence has roots in every heart. It is within my own heart that I must recognize fear, agitation, coldness, alienation, blind anger and the impulse to retaliation. Here in my heart I can turn fear into courageous trust, agitation into stillness, confusion into clarity, isolation into a sense of belonging, alienation into love, and irrational reaction into Common Sense. The creative intelligence of gratefulness will suggest to each one of us how to go about this task. As examples I will list here five small gestures of gratitude that I have personally tested. They create a ripple effect to counteract violence."
Although Brother David's piece was originally written in 2006, his words reverberate today. He lists 5 small gestures of gratitude that can help ease the fear and violence within us.  We can then create a resonance within that reaches beyond and in turn makes the world a better place, one small gesture at a time. You can find his 5 small actions to take here. You can start today. In brief, here are his steps:
Say one word today that will give a fearful person courage.
Make a firm resolution never to repeat stories and rumors that spread fear.
Make contact with people whom you normally ignore.
Give someone an unexpected smile today
Listen to the news today and put at least one item to the test of Common Sense
"To the extent to which we show ourselves not hateful but grateful this becomes reality."
What do small gestures and gratitude have to do with homeopathy?
Homeopathy is all about the smallest dose of a remedy that helps support healing. It is not a medicine of attack, destroy, and kill…a battle of the dreaded viral/bacterial enemy. Homeopathy is about working to support the body's energetic vital force so that healing can happen.
Sometimes it is the smallest amounts that are necessary to create change and support self- healing.
This week, be kind to yourself as you explore your own places of fear, violence, rage and hatred. One small gesture a day that makes the world a better place and always, find the small things in life for which you are grateful.
Be sweet, fresh, fragrant and wild…grateful for any small event.
Yours in health and healing,
Donna