As I write, Calgary is in a deep freeze and has been for the past week. Apparently last year at this time the golf courses were open and we were well into spring. Maybe it is the weather, maybe it is the remedy my homeopath prescribed (I never know what it is) or maybe it is daylight savings time where we 'spring ahead', but I am feeling the need for rest, relaxation and reading – and reading something other than all my non-fiction homeopathic books.
The Unlikely Pilgrimage of Harold Fry and The Love Song of Queenie Hennessy by Rachel Joyce are reading and rest for my soul.
The writing is simple, profound, elegant and poignant. Harold Fry and Queenie Hennessy embody all that goes unsaid in a life. Life is a bit of a puzzle for Harold. When he receives a note from his friend Queenie saying that she is dying in a hospice, he sets off to post a reply. He passes one post box after another until he realizes that he has, quite unintentionally but now with purpose, made his mind up that Queenie should stay alive until his arrival.
We sometimes can never know what it is that moves us into action and into knowing ourselves until the impulse presents itself.
"Harold walked with these strangers and listened. He judged no one, although as the days wore on, and time and places began to melt, he couldn't remember if the tax inspector wore no shoes or had a parrot on his shoulder. It no longer mattered. He had learned that it was the smallness of people that filled him with wonder and tenderness, and the loneliness of that too. The world was made up of people putting one foot in front of the other' and a life might appear ordinary simply because the person living it had been doing so for a long time. Harold could no longer pass a stranger without acknowledging the truth that everyone was the same, and also unique; and that this was the dilemma of being human.
He walked so surely it was as if all his life he had been waiting to get up from his chair."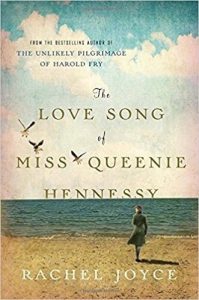 With these two books you as the reader are privileged in seeing events from the perspectives of two different people. Truth, secrecy, pain, suffering, laughter and celebration – the complexities of life as we near death told in an exquisite unassuming way.
What are we waiting for as we live our lives? What is our unadorned truth about what and whom we love? How do we share what is important to us with those we love the most?
Please take time to rest this week as needed. Read. Share your life with others. Begin your journey, your pilgrimage today. And as Queenie writes as she waits for Harold's arrival, she pens her thoughts about journeys when you are unable to walk.
"There can be no more writing today, however. My hand is sore and I have learned my lesson. You don't get to a place by constantly moving, even if your journey is only one of sitting still and waiting. Every once in awhile you have to stop in your tracks and admire the view, a small cloud and a tree outside your window. You have to see what you did not see before. And then you have to sleep."
May you be free this week to be who you are and to do what brings you joy. This is the ultimate gift of being human.
"All journeys have secret destinations of which the traveler is unaware." Martin Buber, The Legend of Baal-Shem
Yours in health and healing,
Donna
P.S. I have had requests for an online course Homeopathy for Beginners. The first one-hour class starts Saturday April 8, 2017. There is a special price of $99.00 CDN for the first 10 to sign up for the 5 classes. REGISTER NOW