A Belated Mother's Day Wish
Today's newsletter is a celebration of time, beauty, love, friendship, mothering and the simple, small things in life. May you find this in your life today and every day. You are an important part of my weekly life as I write…you are so appreciated!
I am writing this the day before Mother's Day so by the time you receive this note in your email inbox, the 'official' celebration will have come and gone. But mothers are always with us, whether they are still physically present with us or not.
My own mom, Betty Sanguin is very much alive and writing for my magazine HomeopathyFirstMagazine.com (you can get a glimpse of her article on aging by opting in here ) Yay! Thanks Ma!
My mother-in-law Fernie Powers has recently had two strokes back to back that have left her bed-ridden. Despite the dementia and the limited mobility now, she is still 'Fernie' and family is still family and the memories are all the sweeter.
For all the moms who read the newsletter, see me as their homeopath, take the courses I offer…your courage and love, especially when your little ones are sick is formidable! If we could package what it takes to be with a sick household, we would have a product that comforts, cures, loves, endures and could possibly even heal the world.
Sick Kids and Coxsackie Virus
Currently there is a sickness making the rounds – Coxsackie virus. Our private FaceBook group (this is one of the bonuses for those who have taken all 12 Vaccine Free: Now What? courses) has been very active. Two families, one in the US and one north of Calgary, were quite affected – made the rounds with everyone from young to old. And everyone was VERY sick.
Through team effort, we realized that this was a virus in the same family as polio and EV D-68 (that was in the news a couple of years ago).
I was going to write about that today but the flower beds offered a wonderful distraction. Instead, I would suggest you go to Newsletter 92 on EV-D68 from April 2014. There is a little handout with that newsletter and although it says EV (enterovirus) D-68, the symptoms are very similar and the homeopathic remedy suggestions will be relevant for Coxsackie. All in the family as it were so when you read the symptoms of one, you can see the resemblance in the others!
Friends and Flowers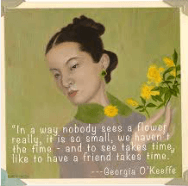 "Nobody sees a flower – really – it is so small it takes time – we haven't time – and to see takes time, like to have a friend takes time." ~ Georgia O'Keeffe (Famous for her stunning 'in your face' enlarged floral blossoms…I think she had a lot of floral 'friends.')
(Thank you, Georgia O'Keefe, for slowing us down and showing us the beauty in each and every single bloom with your art.)
With the early early spring this year, I have been out in the flower beds pulling weeds, squishing unwanted lily beetles (have to find a remedy for those little leaf eaters) and watering. We have had very little rain this year.
Heavenly scents, sounds, and sights that are much-needed medicine in my world where time, for the last few years, has been some kind of strange currency that there is never enough of it. Funny how I am reminded of a children's book that I read many years ago called The Phantom Tollbooth by Norton Juster.
"Time is a gift, given to you, given to give you the time you need, the time you need to have the time of your life." ~ Norton Juster, The Phantom Tollbooth
I am enjoying the flower beds this year—with the help of my friend Lizzie who is the queen of plant rescues—finding loving homes for perennials that are displaced and looking for love. When Lizzie comes over, I never quite know what she will bring, but whatever plant it is, it will have its own uniqueness and beauty and a spot already picked out. Lizzie is more than a plant rescuer; she is a master gardener/designer. For Lizzie, it's all about colour and texture, and for me…fragrance! Between the two of us, we are appreciating the gift of time as we create our grand opus in honour of our very short summers. We will need more than one season, but that's OK. Right now, we have time.
With the creation of an urban garden, we are creating time for each other as well. We raised our kids together from babies to adulthood and now we are nurturing another kind of seed for the future…a future that says, in spite of floods, suffering, sickness, and so much destruction, there is life, there is beauty, there is abundance. Life chooses life.
Simple things…like a meal, a lemonade on a hot day while gardening, the perky face of a viola, the scent of heliotrope on a breeze, the way a purple petunia weaves its way through the copper-colored heuchera, and the scent of rose geranium on your hand long after you have brushed its fuzzy, rough leaves. There is time. Time becomes expansive when I am in this space. It is strange how that works. Spending time with what and whom you love expands time…a kind of eternity. Maybe that is the experience William Blake was sharing with us when he wrote:
To see a world in a grain of sand
And a heaven in a wild flower,
Hold infinity in the palm of your hand,
And eternity in an hour.
What does any of this have to do with homeopathy? For me, being with my garden this year is restorative, which means that I am a better person and a better homeopath. Gardens are healing and homeopathy is healing—and many remedies come from plant sources. Little viola is a great eczema remedy (when the symptom picture fits the person) while Nicotiana is a member of the Solanacea family, sister to Tabacum, which is an excellent remedy for seasickness. Here they are together creating beauty and fragrance on my front porch: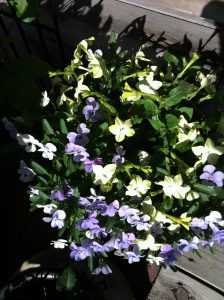 Here is a photo of Lizzie's miniature Victorian garden with Lavender (herbally used for headaches and skin ailments), Scented Night Stock, and Heliotrope in a faux Japanese pot: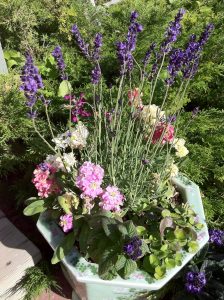 Finally, waiting for their arrival, we have the Legume family with fragrant sweet peas and, in between, the ever practical pea-for-eating—all part of Lizzie's plan for the small-space urban gardener! Have your garden and eat it too! In homeopathy, the Legume family is well represented by Lathyrus (a polio remedy…yep!) and Baptisia, commonly known as indigo (a very important flu remedy when the symptom picture fits the flu picture of the person). In this photo you will have to pretend to see the sweet peas (they are the little shoots against the green boards of the front porch, just below the hanging baskets).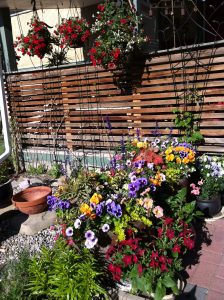 My wish for you this summer? To find time, make time, create time, and enjoy time in the small delights and the big celebrations—and may you have time for plants, flowers, veggies, friends and your moms. Even being with your sick kids…simply being with them during an illness is healing.
With every breath you take, you can be grateful to a plant, the giver of the oxygen we breathe! What would we do without them?
What are you planting in your garden this year? I'd love to know. Drop me a line.
Yours in health and healing,
Donna