Exploring life with a gifted, knowledgeable enthusiastic and joyful guide enlightens and enriches. Whether it is s spiritual director for your inner quest for meaning or a Sherpa taking you on highest mountain peaks. When a guide is respectful of the inner terrain of the person and the outer terrain of the environment, you can safely enjoy the journey. Such is the Shameeah journey with Dr. Roland Guenther. His respect for all of life and his curiosity about nature make him the ideal guide for you to experience and unlock the energetic mysteries of our created world. His wisdom and considerable knowledge ensure that your experience will be safe as you enter into a practical yet mystical journey.
The process is meditative and lengthy. Each stage of the trituration (grinding and scraping) is individually recorded and eventually shared as a group. Collectively, the substance reveals its nature. Everyone is changed. You finish the Shameeah knowing that Nature has revealed a healing secret and that you are in the field of the Sacred.
Having experienced a Shameeah first hand with Dr. Guenther, I would highly recommend attending any sessions he offers. If you long to connect with nature and with others; if you want to understand how substances can heal; if you want to understand the meaning of Shameeah, sign up for the Shameeah this December and learn how we can humbly turn to the created world to help heal an ailing humanity.
Below, you can read Dr. Guenther's most recent newletter in which he outline's the details of the blind Shameeah session he will be holding in December and what you can expect.   I will be there! Hope to see you there too.
Yours in Health and Healing,
Donna
Finally another Shameeah!
I invite you to a blind Shameeah on December 10th and 11th 2016 in Courtenay on Vancouver Island.
"A blind Shameeah? What is that?", you may ask.
You know about Shameeah, this ceremony at the crossroads where homeopathy, alchemy and shamanism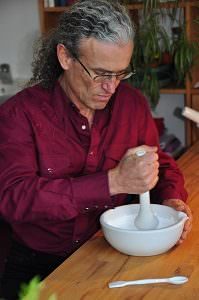 meet, a ceremony of the most intimate communication with nature that you can imagine. So far, that is clear. In case that it is not completely clear, just have a look at my website www.VancouverIslandHomeopathy.com , click on the Shameeah page and you will find lots of information there.
Now, blind – that means that we do not know what substance we are using. It could be any plant, mineral or animal, or even any other energy. "So what is that good for?", I hear you ask. In a Shameeah ceremony we rely on our inner senses, our perception of subtle energies in our body, in our emotions, our mind and in our soul. Knowing the origin of the substance that we are dealing with, can be very distracting because our mind jumps in, making up stories. However, in a Shameeah we are the students, we listen to what nature shares with us. So we have to be as quiet as possible in order to hear. Nature does not yell at us. Mostly she just whispers. Not knowing means that our mind can relax in this
not-knowing and with less mental interference and more authenticity we can perceive nature's messages.
Curious? I hope so. Go into your heart and feel if you are called to this one. And if so, summon your courage and dare to embark on this journey into the unknown. We do not know where the journey will take us but we do know where we will end up: In the sacred core of nature.
Register by sending an email to Roland@VancouverIslandHomeopathy.com or use the contact form on my website.
The Fee for the weekend is $ 210.00. If you register and pay before November 30th, you can take advantage of the Early-Bird Fee of only $155.00.
Location: We will meet on 1736 England Ave in Courtenay on Vancouver Island. Our venue is situated very central in Courtenay at the intersection of 17th Ave and England Ave.
Courtenay is easy to reach. The Comox airport is only 15 minutes away. If you will come with the car from the mainland, take the ferry to Nanaimo. From there it is only an hour and 15 minutes drive to Courtenay.
Time: We will meet on Saturday 10th at 9:30 am. We are likely to be done around 6:00 pm.
On Sunday 11th we will start again at 9:30 am and will be done probably around 4:00 pm.
If you are looking for Accomodations, please let me know and I will send you some suggestions. There are lots of possibilities in walking distance of 10 minutes around our very central venue.
For any other questions, send me an email. I am not available by phone until November 22nd as I am spending time with my kids and grandchildren in Germany. However, I am looking forward to hearing from you and to see your emails.
And maybe we will soon be together on an exciting journey of discovery into nature as it is reflected in our inner nature.
With blessings,
Roland
Click here to view the event details on my website
Click here to read more about Shameeah