"Aaah, summer – that long anticipated stretch of lazy, lingering days, free of responsibility and rife with possibility. It's a time to hunt for insects, master handstands, practice swimming strokes, conquer trees, explore nooks and crannies, and make new friends."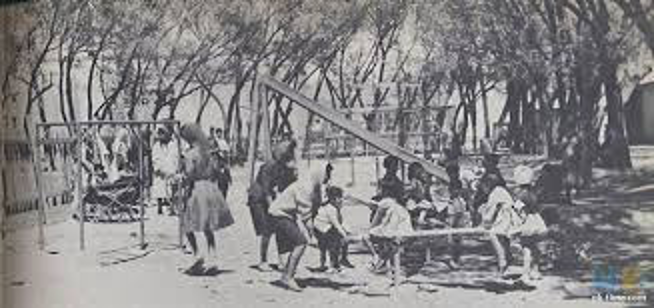 Being a child of the mid-1960's, summer was all about long days away from home, swimming in the kids' pool at the neighborhood park, going to summer day camps, or playing well into the evening. Pack a peanut butter sandwich and off you went. Something to drink? Water fountains were always at the park. Or there was always Kool-Aid at someone's house. You stopped long enough to use the bathroom, have a drink, and away you went. Mostly you walked either to the park or the schoolyard—or if you had a bike, you were really lucky! Some of us even had roller skates, the kind with four wheels and a key.
You always had enough kids in a one-block radius for a game of anything! With 5 or 6 kids to a family, you were pretty much guaranteed a fun time: a 'work your way up' baseball game called 500 You're Up (I had to have help from my siblings on some of these games! One batter and points for catching fly balls, one and two bouncers and grounders), serious hide-and-go-seek with versions being Kick the Can or Sardines, tin can cricket, skipping if you were a girl, and football for the boys. Red Rover and British Bull Dog were popular too.
The only summer rule? 'Be home before the street lights come on.'
The Bumps and Bruises of Summer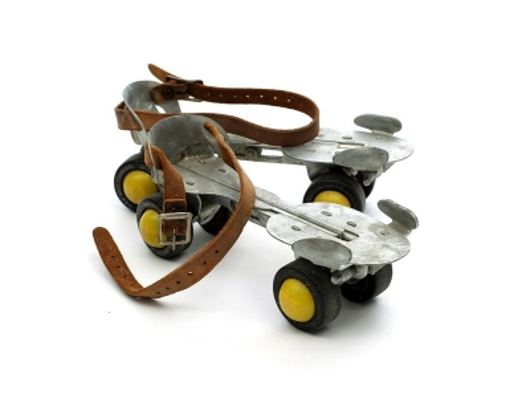 Injuries? Yep…we had them. My first 'bad' one was with the roller skates. My mom simply rigged a homemade sling for my aching arm and I suspect I likely spent the next couple of days reading instead of playing…which suited me just fine. The library was one of my favorite summer hangouts. There was always a summer reading program and I discovered Freddie the Pig, The Lion, the Witch and the Wardrobe, Mary Poppins and Mr. Popper's Penguins…long before Disney made them popular.
Bumps and bruises were just an accepted part of summer. Mosquito bites? Oh yeah! I grew up in Winnipeg, the city of summer gazebos.
I remember my husband's first July visit to Winnipeg some 30-plus years ago now. He pointed to the backyard and asked, "What is THAT?" Assuming he meant the only object there besides the recognizable grass, bushes, and trees, I replied, "That's a gazebo." To which he replied, "What the h— is a gazebo??!"
"Well, that's where you sit in the evening or sleep in the summer so the mosquitoes don't eat you alive."
Made perfect sense to me, but coming from Calgary where the nights are mountain cool and too chilly for mosquitoes, he was left shaking his head. A screened-in free-standing building to keep the mosquitoes away? He still thinks they are strange.
So back in the day, summer days were long, the heat sweltering, the fun never-ending and the 'usual' scrapes, sunburns and sore arms were just an accepted part of what it meant to be on summer holidays!
Trailer camping in the Canadian Shield, picking blueberries in the bogs, making sandcastles on the beach under the direct sun in the SPF-free days. Blanket picnics in the backyard meant bug bites, knee scrapes, sunburns, and an occasional smashed finger or toe, cuts, road rash and heat exhaustion from time to time.
Home medicines of the day included mercurochrome (yep…mercury in it), hydrogen peroxide to clean scrapes, white vinegar for sunburns, carbolic salve for scrapes, Calamine lotion for burns and bites, band aids, and 'mom love.' I actually believe that it was the 'mom love' more than anything that was reassuring as a kid. Even as an adult in my early twenties, whenever I had a fever, I would imagine my mom's cool hand on my forehead and would immediately feel better.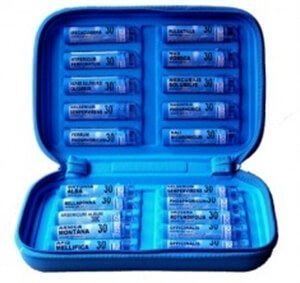 Your Summer Home Remedy Line Up: Homeopathy Heals!
Given enough time our bodies self-heal quite nicely on their own; think of scabs, nosebleeds, black eyes, sunburns and stings. But those first few minutes, hours and days can be extremely uncomfortable. This is when homeopathic remedies can help support the self-healing and minimize the worst of the symptoms – the burning, the stinging, the bruising. Kind of like doubling up on the healing!
Here is a quick guide for how to 'dose' the remedies in any given situation or as I call it…
How Much? How Often? How Strong?
Intense Situation – 7-8 out of 10 with pain, swelling, fever, injury, itch;
1 granule (babies to 4-year-olds)
2 granules (4 to 10-year-olds)
3 granules (10-year-olds to adults)
Frequency: Every half-hour to one and one half-hours for up to three times. By the end of one and a half hours to four and a half hours, there should be improvement.
Improvement might mean they fall asleep, feel better in themselves or have more energy and the physical ailment is improved – less swelling, less pain, fever breaks, itching less.
Less Intense Situation – 4-7 out of 10 with pain, swelling, fever, injury, itch;
Frequency: Same number of granules as above but repeated every two to five hours for up to three times.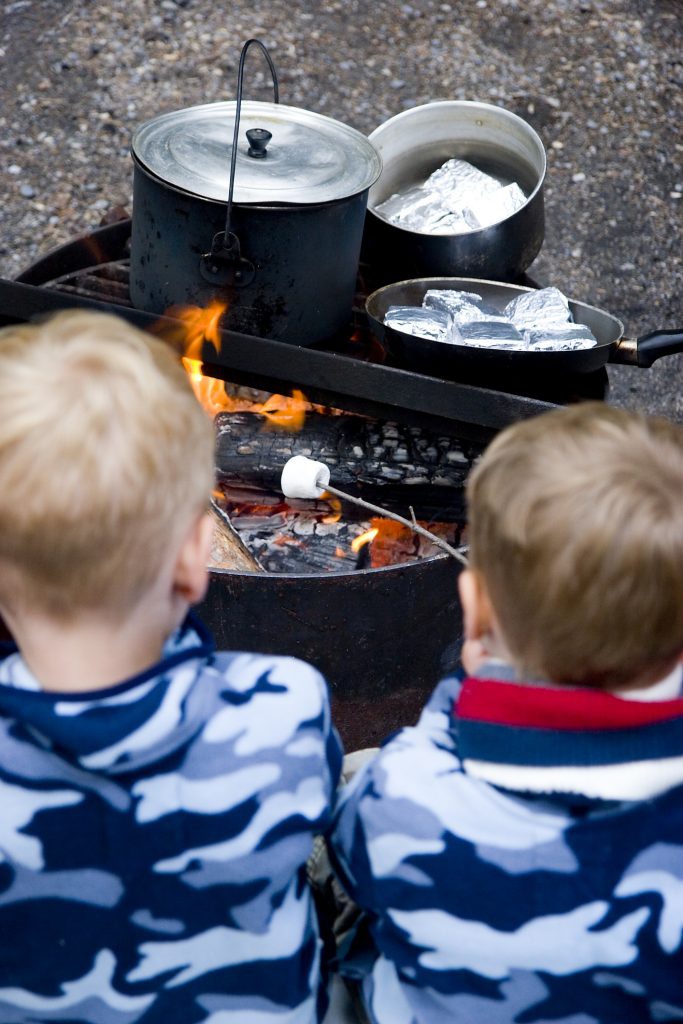 Arnica
For all the falls, bumps, and bruises where there is swelling and soreness. Some parents have even told me stories of how their child had the biggest lump on their forehead from falling on concrete steps and by bedtime you could hardly tell there had been an injury. Bicycle accidents, falling on sidewalks, gardening, and overdoing it (think muscles aches, pains and soreness), black eyes from baseballs, Frisbees and/or sibling elbows, and arms in a wrestling match…all opportunities for healing with Arnica.
You can even use Arnica for shock in situations where you or your child has witnessed someone else being injured, like a car accident. Always keep Arnica handy.
Belladonna
Often parents think of Belladonna with fever that has a red face, throbbing/pulsating sensations (you can actually see the veins in the temple or neck throb), and where the black part of the eye (pupil) is almost completely covering the colored part of the eye (the iris). You can also have these symptoms in sunburn, sunstroke, or heat exhaustion. Again, the turnaround will be quite remarkable with just a couple doses of Belladonna.
Hypericum
Kids coming and going, car doors opening and closing and, whether it's mom/dad or one of the kids, all too often someone gets a finger caught in a door. Barefoot in the summer? Stubbed toes. Scraped toes. Get out the Hypericum…brilliant for crushed fingers or toes. Three years ago I slipped on my parent's wet hardwood floor and judging by the 'bump' in my second toe, I am pretty sure I broke it. Took Hypericum and I was pain free…tender tootsies in a closed shoe, but without the Hypericum, I am certain I would have been a whining mess.
And puncture wounds with the concern of infection? Hypericum and Ledum will be your go-to remedies. And be sure to read a past newsletter on Tetanus…what to do if you have to take your child or an adult to emergency for stitches, and decide to refuse a tetanus vaccine.
Ledum
Partner to Hypericum in puncture wounds or where there is risk of infection. Be sure to let the wound bleed and clean carefully. Infection is a possibility if you cover the wound too quickly, especially with tetanus. Tetanus grows where there is no oxygen, so let the cut/wound be open to the air (where there is lots of oxygen).
Ledum will be one of your insect/spider/bug bite remedies, especially if the itch/sting feels better with ice-cold cloths on it. Be sure to use Ledum after a tick bite and you might just head off Lyme disease. Below is a photo of a tick bite rash.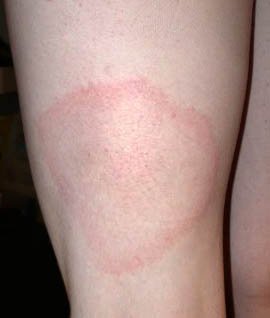 Apis
Made from the venom of the bee, this will be your other go-to remedy for bug bites, especially if the pain is stinging, the skin gets really swollen and shiny looking, and your child/adult is weepy. They do not have to have the weepy part but that is often an indication for Apis. Like Ledum, cool applications will be wanted; someone needing Apis will feel much worse for anything warm near the bite.
Cantharis
Every year you read or hear about at least one child or adult falling into the campfire or burning fingers on roasted marshmallows. Even sunburns (especially the ears of fishing folk and baseball players) can get that blistered, watery tender skin similar to a burn with flames. If you're a family who loves campfires, be sure to keep Cantharis on hand.
You can even use Cantharis on sunburns, whether they are blistered or not. It will take out the heat and help support healing.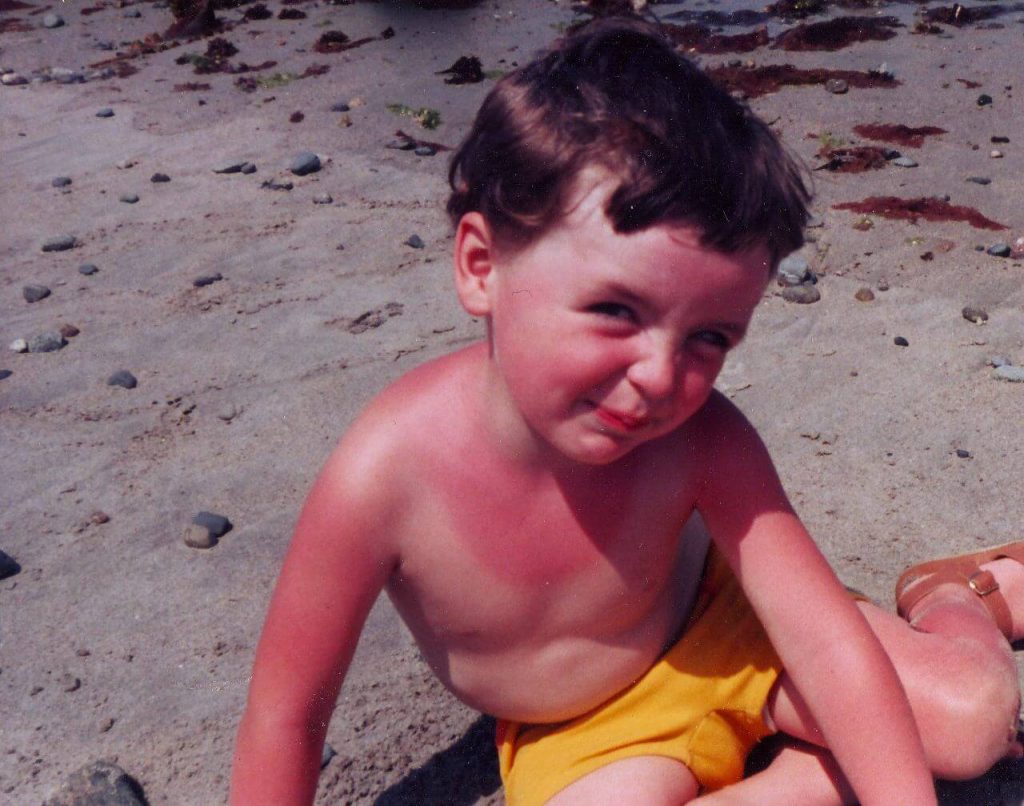 Rhus tox
Backwoods campers? Poison ivy prone? This will be your go-to remedy for any kind of allergic skin reaction, whether from poison ivy, poison oak, or some other skin irritant. Made from poison ivy itself, this remedy cures what it can create. Itchy, watery blisters, red and driving you crazy from the itch…all good symptoms for using Rhus tox. Here's a link to photos of some skin rashes where Rhus tox could help heal.
Arsenicum
Public pools, playgrounds, day camps…easy to pick up a Norwalk or Rotavirus. Vomiting, diarrhea…both ends, same time. Keep Arsenicum handy. Your other situation could be food poisoning—unpleasant to consider but a reality with picnics, stampede parties, and outdoor food stands this time of year. Chills, burning pains with either the vomiting or diarrhea, and you will know that Arsenicum will do some good work.
Nux vomica
More likely for the teens and adults who overindulge in the summer months…too much fast food, coffee, alcohol, late nights, early mornings, hangovers. This is a great indigestion/heartburn remedy.
Pulsatilla
Such a great remedy for kids. I'd keep this on hand for any and all situations and illnesses where there is a fever, lack of thirst, sore eyes, and rashy skin. Too many fatty foods (ice cream, hot dogs, chocolate treats), too much heat, not enough to drink, and stomach complaints…turn to Pulsatilla.
If you have a passion for Homeopathy and want to feel confident in dosage review the How much? How Often? How Strong? course and/or Just the Remedies Level I
Leave behind the home remedies of the 1960's and be amazed at what you can do with a small kit of 10 homeopathic remedies this summer. The cost of remedies is so reasonable; you can have a cottage kit, a summer camp kit to send with the kids, a handy kit for the fishing/hunting enthusiasts, a canoe trip kit…whatever your summer fun is all about, you can put a homeopathic kit together that will get you through the bumps, bruises, bites, and burns.
In health and healing,
Donna