"Our human compassion binds us the one to the other – not in pity or patronizingly, but as human beings who have learnt how to turn our common suffering into hope for the future."
~ Nelson Mandela
At the risk of scaring everyone who reads this week's post, I am going to go ahead anyway. Today's post is going to attempt in 1,000 words, more or less (likely more!), and in two parts (maybe three) to give you a little bit of introductory information on the topic of Ebola, including some background history to Ebola and Marburg (both hemorrhagic, which means bleeding fevers), vaccine manufacturing accidents (African green monkey kidney cells), symptoms of Ebola, and a homeopathic remedy that has been suggested as prevention and treatment in an outbreak.
There will be lots of controversy and skepticism with the suggestion of a homeopathic remedy for prevention or healing support in a situation of Ebola. As far as I know, there is nothing recorded historically with homeopathic treatment of Ebola but this infectious disease is quite recent when compared to other epidemics where homeopathy has been used successfully (e.g., Scarlet Fever Outbreak [1800], Typhus outbreak in Germany [1813], Cholera Outbreak Russia [1831], 1918 Spanish Influenza, Japanese Encephalitis in India [1999], Meningitis in Brazil [1998], and Leptospirosis in Cuba [2007]).
Let me also refer you to the website of Dr. Isaac Golden, who is the authority on homeopathy used as prevention in infectious disease outbreaks and worked alongside conventional medical doctors in Cuba during the Leptospirosis outbreak in 2007. Please feel free to take any of his courses or to purchase his books if you are interested.
Information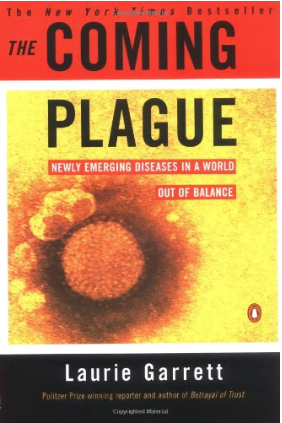 Laurie Garrett is the winner of a 1996 Pulitzer Prize for reporting on the Ebola virus. One whole chapter of her book, The Coming Plague, describes in step-by-step historic detail the emergence of the Marburg virus in 1967 in Marburg, Germany and the Ebola virus in 1976 in Africa. Her writing reads like a suspense novel with real people living the horrors of an all too real deadly infectious disease. If you want to understand the history and significance of the emergence of these infectious diseases, please read her book in its entirety. These are new viruses that are emerging. They are new to humans, which means there is little or no immunity to them. Not everyone will be susceptible but those who are risk little chance of surviving the devastating effects of the disease. In Garrett's book, you will read of a couple of people who survived; their blood plasma was then used as a way to treat others with the infection.
After reading today's post, I would highly recommend you also listen to Laurie Garrett's TEDx talk published May 31, 2014.
Right up until the day of her talk, Garrett was changing her PowerPoint presentation to accommodate the changes happening in science. The changes? Directing evolution by creating synthetic life forms. Life as in living, reproducing life forms, which includes new forms of virus and bacteria and resurrecting dormant life forms.
What is happening now in Africa and in the containment labs in Europe and North America is serious. Best to be informed before a crisis happens. My hope is that epidemiologists, conventional medical doctors, level 4 containment disease centers, and homeopaths will collaborate to find ways to prevent and treat new infectious diseases like Ebola.
One example of successful collaboration is the work of Dr. Prasanta Banerji of India who is working with conventional medical doctors and oncologists in the USA. Dr. Banerji's protocols of cancer treatment with homeopathic remedies are well documented with radiology reports and conventional medical diagnostics.
More Information
Today's handout (see below) includes a compilation of links to many resources so you can pick and choose all, some, or none. We all handle this kind of news in our own way. You can access the document as you have time to read…and time is what it takes. Hopefully, the resource will save you some time. I have to confess, I felt like Alice who was plunged into another world when she fell into the rabbit hole! The last two days have been spent following monkey kidney cells, dusting off old books, chasing cyberspace links, downloading medical journal articles…my kind of challenge!
For me, information has always been a way to help me deal with fears, real and imagined. Writing, reading, and talking about topics that scare and challenge the health and well-being of our world is part of what motivates me to grow and change. May you find some hope rather than fear by the end of this post.
Remember…you have a choice and the freedom to choose how you respond in any crisis. In the coming days, you will hear about the possibility of vaccines being rushed into use. There are 'possible' vaccines and antibody-based treatments available at the time of writing, but as yet, the testing has not been done on any humans. Vaccine safety and effectiveness of antibody treatments have yet to be determined in the human population. You will have to make choices for yourself and for your family.
To change our world, to live consciously, to make educated choices for ourselves and for the future of humanity…this is our work. I am grateful for scientific journalists like Laurie Garrett who are asking us to consider the consequences of the potential for harm and for good that current technology offers. We have the opportunity before us, right now, to engage energetically and spiritually to create a new humanity. We must see ourselves as a part of creation rather than asserting ourselves as self-serving for-human-benefit-only life forms on this planet.
From Laurie Garrett's book The Coming Plague:
"The Coming Plague looks at means by which humans are actually aiding and abetting the microbes through ill-planned development schemes, misguided medicine, errant public health, and shortsighted political action/inaction.

…some solutions are offered. Fear, without potential mitigating solutions, can be very volatile. It has, throughout history, prompted the lifelong imprisonment of the victims of a disease. Perhaps less onerously, it can lead to inappropriate expenditures of money and human resources aimed at staving off a real or imagined enemy.

What is required, overall, is a new paradigm in the way people think about disease. Rather than a view that sees humanity's relationship to the microbes as a historically linear one, tending over the centuries toward every-decreasing risk to humans, a far more challenging perspective must be sought, allowing for a dynamic, nonlinear state of affairs between Homo Sapiens and the microbial world, both inside and outside their bodies. As Harvard University's Dick Levins puts it, "we must embrace complexity, seek ways to describe and comprehend an ever-changing ecology we cannot see, but, nonetheless, by which we are constantly affected."

Preparedness demands understanding. To comprehend the interactions between Homo sapiens and the vast and diverse microbial world, perspectives must be forged that meld such disparate fields as medicine, environmentalism, public health, basic ecology, primate biology, human behavior, economic development, cultural anthropology, human rights law, entomology, parasitology, virology, bacteriology, evolutionary biology, and epidemiology. (Authors note: I would add homeopathy and evolutionary spirituality to the mix…see Barbara Marx Hubbard's website and my brother's webpage.)

The Coming Plague tells the stories of men and women who struggled to understand and control the microbial threats of the post-World War II era. As these disease vanquishers retire, the college laboratories and medical schools grow full of youthful scientific energy, but it is not focused on the seemingly old-fashioned, passé tasks that were invaluable in humanity's historic ecological struggles with the microbes. As we approach the millennium, few young scientists or doctors anywhere in the world can quickly recognize a tiger mosquito, Peromyscus maniculatus mouse, pertussis cough, or diphtheria throat infection. (Authors note: We do cover signs and symptoms in the Vaccine Free: Now What? course…watch for information coming out shortly re: registration for the fall 2014 session.)

The skills needed to describe and recognize perturbations in the Homo sapiens microecology are disappearing with the passing of the generations, leaving humanity, lulled into a complacency born of proud discoveries and medical triumphs, unprepared for the coming plague."

~ Laurie Garrett
I think this is enough for today! Next week I will write up the timeline of Marburg and the connection to vaccine manufacturing disasters, Ebola, African green monkeys, and their connection to new viral illnesses and cancer, signs and symptoms of Ebola, and hemorrhagic fever diseases, and finally, the homeopathic remedy suggested for hemorrhagic fevers like Ebola. For those who read ahead, you can follow the links in the handouts.
Resources
Laurie Garrett's TEDx talk, "Directing Evolution"
Laurie Garrett's book The Coming Plague: Newly Emerging Diseases in a World Out of Balance
National Post newspaper articles from August 1, 2014:
"Key Front in Ebola Battle: Winnipeg"
"The Curse of Ebola" by Tom Chivers. (Chivers's article states that Ebola is NOT an airborne virus.)
For a differing view, you can read/listen here. The author of this website is a bit of a mystery. SCG seems to be Storm Clouds Gathering.
You can find more links and resources in today's handout here.
Yours in health, healing and collaboration,
Donna
*Epidemiology is the science that studies the patterns, causes, and effects of health and disease conditions in defined populations. It is the cornerstone of public health, and informs policy decisions and evidence-based practice by identifying risk factors for disease and targets for preventive healthcare.