At the invite from our youngest son and the new woman in his life, hubby Ron and I hiked the Larch Valley Trail at Lake Louise in Alberta. If I had known then what I know now, I might have stayed at home keeping my butt warm in a comfy chair in front of my computer screen! Come to think of it, I wonder why I did not research before committing myself to the trek?
When I Google the hike I now see that the trail to Larch Valley is considered a 'moderate' hike (ha! Beg to differ) – 4.3 km, which should take 3.5 to 4 hours at an elevation of 535m. More research as to how high 535m might actually be…and research reveals it would be like walking 107 floors to the top of the new One World Trade Center in New York. No wonder I couldn't sleep that night after hiking 107 floors straight up a mountain! The next day was not much better. I could hardly move. By Monday morning I was better (meaning I could move without moaning) but the thought of going to my usual workout and exercising muscles that were still recovering was too big a stretch. I found my comfy chair in front of my computer screen and briskly sat for most of Monday!
The view though was spectacular – the turquoise waters of Lake Louise, the tall green pines, the yellow/orange Larches, babbling mountains creeks and yes, snow and icy cold winds by the time we reached the highest part of our hike. You could continue on and in fact, there were folks who looked like ants on the icing of a cake, hiking through another pass. I can only imagine what kind of fitness level they must have to continue the trek from where we finished to where they continued! I was happy to turn around and find a spot to have lunch.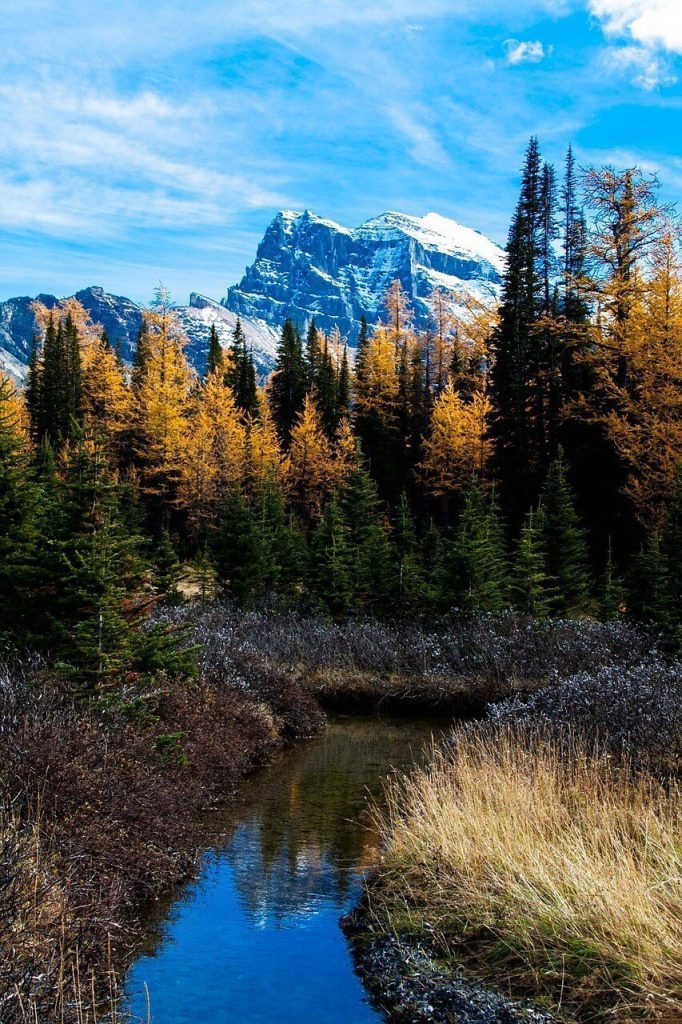 I did take a homeopathic kit with me.
Arnica. Yes! Arnica was our 'dessert' at the lunch break. I also took some that night but I only had a 30CH in my stash at home. Note to self – order an Arnica 1M for 'moderate' hikes in the mountains.
Aconite. For possible shock, injuries and cold winds that cause colds. I did get the sniffles and sneezing but Aconite 12CH seemed to keep me from a full on case of a cold.
Hypericum and Ledum. Just in case anyone took a spill and tetanus was a concern. Highly unlikely but I am an "in case" of kind of gal.
Apis. Likely late in the season for bug bites but again, you never know!
One of my colleagues, Canteris Hartley who has posted before on this blog, wrote about a weeklong backcountry trip she took this summer. Have a read and see what remedies she packed and used on her trip! And if you live on or near Gibsons, BC on Vancouver Island, Canteris is offering a homeopathy course in October for the backcountry hiker.
"This Summer I went on a fantastic backcountry trip for a week in Marvel Pass, Mt. Assiniboine Provincial Park and we accessed the pass from Kootenay National Park at the trailhead of Aurora Creek.  We saw no one during our week; it was remote and unbelievably beautiful.  This was not only a backpacking trip, but we practiced mindfulness meditation, yoga and also did some scrambling, an ideal combination.
As always when I go into the backcountry I come prepared with various homeopathic remedies, as remoteness and risk play important factors on these trips, and having the right remedies on hand can help deal effectively with the various situations that can sometimes ruin a trip.
Needless to say this area was extremely buggy and some of us were more affected by mosquito and horsefly bites than others. Interestingly, my friends from the UK were the most susceptible.  They were not only bitten more, but their bites would swell and become very itchy.  Apis mellifica was helpful in bringing down the swelling and itchiness quickly and worked for everyone that was being badly bitten.  One women's hand was completely swollen from one bite and she took Apis mellifica and within an hour the swelling was gone.
With heavy backpacks and longs days, changing base camp three times, muscle soreness and fatigue were prevalent.  Arnica montana worked wonders in relieving our fatigue and soreness, so that we could revive our energy quickly for the days and higher altitudes to come.  One of the men had an old knee injury act up and he was not sure he could continue.  I gave him one dose of Ruta graveolens and the next morning his knee did not bother him at all.  He was able to finish the trip pain free.
For others, time zones changes and then altitude gain in the mountains along with physical and mental exertion combined, resulted in vertigo, fatigue and weariness of a different kind; Cocculus and Cocahelped with just one dose in both cases to restore energy and equilibrium.
Fortunately, no serious injuries or grizzly bear encounters occurred.  Weather was fairly cooperative with some exciting electrical storms.  Stunning views of Mt. Assiniboine and the other surrounding mountains will remain forever etched in my mind and soul.  I also had the privilege of seeing Arnica montana in bloom growing wild; it was a beautiful sight, along with the other wild alpine flowers."
Want more travel help and suggestions? Check out Issue 2 of Homeopathy First Magazine. Lots of ideas for kits and common sense tips for travel to India, Africa and in the Rockies.  Simply go to http://homeopathyfirstmagazine.com/forms/single/ and indicate in the drop down box at the bottom that you would like to order Issue 2.
Enjoy! And happy trails!
Yours in Health and Healing,
Donna
About Canteris Hartley: My Journey with Homeopathy
Homeopathy has been an important part of my life for over 25 years. In my early 20's I was treated homeopathically for a chronic kidney condition that started when I was 12 years old. I was immediately fascinated by how it improved not only my physical symptoms but my mental and emotional symptoms as well. I had used naturopathic treatments and Chinese medicine prior, but I had not ever experienced anything like homeopathy. My health began to improve dramatically from the homeopathic treatment and thus my love and intrigue with homeopathy began. I studied on my own and had my own kit for a few years, until I finally decided to formally study and practice it. Homeopathy continues to be my main form of treatment and support both for my daughter and myself. My excellent health and that of my daughter's I owe to homeopathy.
For those interested in learning how to use homeopathic remedies in the backcountry, I will be teaching a workshop in Gibsons, BC on Saturday October 15th2016, 9:30-1:30pm. For more information contact 604.886.3844 or visit www.coasthomeopathy.com