Cancer in woody plants…who knew? I guess if you are a botanist or arborist you might know of such a phenomenon but I was quite unaware.
I am currently visiting my folks in Winnipeg…again. I really thought I was done travelling this summer. But the invitation for my husband to do some work for family and the opportunity to see my folks was hard to refuse. Husband and son drove. I flew. Spoiled? You bet!
 In the Garden
My folks always have a lovely back garden, filled with flowers, bunnies, squirrels, crows, plants and a compost to hold all things returning from whence they came. I did not get any annuals planted this year in Calgary (too much travelling…seems it is hard to both travel and garden in the same season). I did not realize how much I had missed gardening this year until I started deadheading and watering in my folks' backyard paradise. I have always found being with plants meditative and calming…so needed in a busy world.
In July 2014 I wrote a post titled 'Mites, Ants, Aphids and Other Plant Pests' that included a mention of Christiane Maute's book Homeopathy and Plants.  You can buy the book at nature-reveals.com.
At that time, my roses were aphid-filled and failing. Whether it was the homeopathy or not, the roses have come back in a spectacular way with continuous blooms this year.
 From Roses to Trees
While sitting in the three-season room, my parents mentioned that the weeping birch was dying and needed to be cut down. It's a beautiful tree but you can see where the leaves are turning an 'off' yellow color and on closer inspection, you can see blackish knots around two areas where branches had previously been cut off.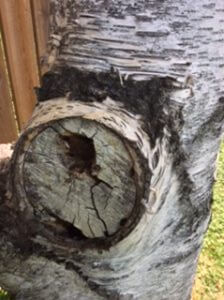 I went to Christiane Maute's book and happened to stumble on the appendix that said 'treating cancer in woody plants'. I looked at the photo and was startled to see that the weeping birch looked very similar…all knotty and discolored. So we are in experiment mode, following the book's instructions. The treatment she recommends will take 4-6 weeks. Does the tree have cancer? I really cannot be sure. Will it hurt to treat the tree with homeopathic remedies? No. Might it still die anyway? Yes.
But I am intensely curious. Homeopathy is healing energy medicine. If homeopathy can help babies, animals, trees and plants then there is something more than placebo effect happening.
From the Book: What to Do with Tree Cancer: 
Maute recommends lopping off the affected branches and cutting out the cancerous areas. I will leave that job for my dad to do…not sure how exactly to do that with this tree. Maybe file the knotty black parts off? Or maybe just leave it for now. After doing that you want to dose your tree with Arnica 200.
Follow that up with Staphysagria 200 the next day.
The day after that, use Carbo vegetabilis 30CH.
Wait 3 days to allow the remedies to work.
Then treat with Thuja 30CH.
Wait 7 days then treat with Carcinosinum 30CH once a week.
Alternate with Thuja 30CH the following week.
Repeat the alternation between Thuja and Carcinosinum every 7 days for 4-6 weeks.
For more complete directions, do check out Maute's book.
 Cancer in People
On my recent arrival to Winnipeg, my dad had just returned from his appointment with the oncologist. In 1999, he was diagnosed with prostate cancer. One year later, he was cancer free. Homeopathy and diet were his treatment of choice. Now it is 17 years later and he has an enlarged prostate, which is likely cancerous (he has opted to refuse any other biopsies) because he has some small shadows on his pelvic bone and he has pain in that area of his backside.
At this stage of his life (86 years of age) he has decided to go on hormone therapy with the oncologist saying that 1-10 years could be added to his life with this option. Sobering. And yet we are grateful too for there have been 17 years cancer free.
All of this to say…my dad is on the same remedies as the tree…Thuja but instead of Carcinosinum we are using Scirrhinum. He is using both homeopathy and conventional treatment. This is possible with homeopathy.
If you or a loved one is living with a cancer diagnosis, do know that there are homeopaths that can help support with homeopathy. Side effects of chemo and/or radiation can be helped with homeopathy. And there are even homeopaths who have research to support the use of homeopathy in cancer. Dr. Prasanta Banerji has been published in conventional medical journals for his research. Read about it more on his website.
Do phone your homeopath to see how you can work with them and with your conventional doctors. Or reach out to a homeopath who has experience with cancer and cancer treatments.
Learning from the Trees
As my dad lives with this most recent diagnosis, he really does live. The daily routine of a coffee with the days newspaper and Sudoku puzzle, morning breakfast, the walk to the vegetable garden, the tilling, the weeding, the picking, the washing, the sharing of the bounty…family meals, watching the Toronto Blue Jays on TV, anticipating the birth of a new great grand baby…we continue to celebrate the small things in life and take nothing for granted.
Homeopathy will be a big part of the next few years as will some help from the conventional medical world. Always.
What can we learn from the trees? There is a book coming out in Canada on September 2016 called The Hidden Life of Trees by Peter Wohlleben.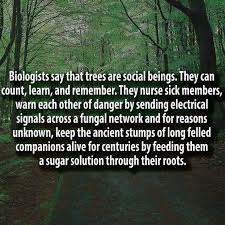 Like the trees, we will continue to be social beings. We will nurse our sick. We will share the sweetness of life with those loved ones who have passed on (I think of my mother-in-law Fernie who passed away in June of this year). And we can be grateful for trees. And homeopathy. And conventional treatments when necessary.
Now I am going to the weeping birch to give it the next remedy, Carbo vegetabilis.
Yours in health and healing and all things green,
Donna
Review of the book The Hidden Life of Trees and the author:
http://www.nytimes.com/2016/01/30/world/europe/german-forest-ranger-finds-that-trees-have-social-networks-too.html?_r=0