Browsing through old newsletters, cleaning up folders and files, I came across something I wrote for you in 2013. October 7, 2013. Those were the early first days of writing a weekly blog post. On rereading, I was taken back once more, to the place of remembering. Strange…I am already planning Thanksgiving dinner for this year. My grand daughter Gracie will be 8, my mom and dad will be coming from Winnipeg to share dinner and fun times with the whole fam-damily and much to my relief, my dad will be helping put the flower beds to 'sleep' for the winter ahead.
So much of life is about the seasons, the traditions, family and friends. I am grateful for you. So here you go…reflections from three years ago. What has happened in your life since then. Drop me a line. Reply to the post. I'd love to hear from you.
October 7, 2013
Have you ever have those moments, or even a whole day, where everything you did, you knew, just knew, that it was a day that you would remember for a very long time?  At a mind-moment's impulse, you know that you will be able to recall where you were, what you were doing, the smells, the sounds, and the weather.
Over the weekend, I cleaned up the front porch, the wooden barrels of annuals, rescued what I could of the geraniums and herbs, repotted the ivy, washed and topped up soil in the houseplants that spent the summer outdoors, swept, cleaned, and tidied. Getting ready for the winter, I guess — that and preparing for Thanksgiving dinner next Sunday with the whole family. Each moment of the day filled with preparation and readying for the season to come, and I have so much to be grateful for.
I thanked each of the plants for giving me so much joy this summer. The fragrance of the lavender, rosemary, and rose-scented geraniums still on my hands and lingering somewhere in the receptors of the brain that store this kind of sensory information. The smell of wet potting soil and dirt moistened one last time. The sweet peas are braving the cold so far…pink, mauve, burgundy, and white…only releasing their fragrance when brought indoors. Tomorrow Gracie and I will pick sweet peas, likely for the last time this year.
And who knew that the delicate and dainty fuchsias would survive the frost of last week? They will hang in their baskets outside this week, and as long as the weather stays above zero at night, they should be alive to welcome dinner guests next week with their exotic pink and purple flower heads. I am eternally hopeful.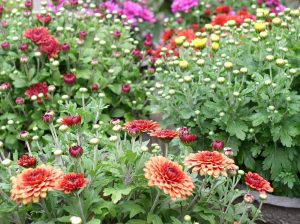 I saved what I could and said goodbye to what I couldn't. The pansies, bless their dear little souls, sprouted up out of nowhere in a neglected pot, ready for another season of growth. Someone forgot to tell them that winter comes at this elevation…and all too soon. But I took pansies from other containers that were being dismantled and potted them all together—perhaps they will survive a light frost or two before the hard cold hits. I tucked them up near the front porch, so they will be protected for a little while yet.
The pink carnations have decided to break out in bloom as well. So I found them a little spot on the porch, safe for a short time anyway. The asters love the cooler weather and it is delightful in a world turning yellow, brown, and gold to see pink and purple in the flowerbeds.
So it is as the weekend came to a close for me. Gracie turned 5. Hot dogs, chippies, pop, and cake at the Cobb's Corn Maze just outside the city limits. Shopping at the grocery store in preparation for the big meal next week. Me in the garden, while my husband visits his mom in the nursing home (who said to him for the first time since being there for almost eight months, "It's OK, you can go home. I think I'll stay here for the night.")
I am aware today that cleaning up the garden and preparing for next week's family meal isn't just a to-do list…finishing up one thing so that I can move onto the next and often wondering how I will get it all done. That's stress. I was really 'in the moment'…that is a gift. A rare gift at that. But maybe I will have more of these kinds of days. I hope so.
What does this have to do with homeopathy? Nothing…and everything.
Three or four weeks ago, my homeopath gave me what I think is a new remedy. She never says what it is and I never ask. But I do know that I need a boost in order to get done all that I want to do in the next few years. She heard me! Two Sundays ago, I was very sick and struggled all week to get back on my feet…then gave up and rested when I could. Last Sunday? I had fun and made a video blog. This Sunday? My heart is full of gratitude and mind's-moment memories are stored away in the neuron pathways of my brain to be called up on a moment's notice this winter.
So homeopathic remedies can be like that…bit of an aggravation and no thought of doing anything except resting to having fun to being in the moment. I'd like to think this is the support of the remedy…that's how subtle healing can be.
Have a healthy and healing week, my friend. Wishing you a storehouse of summer memories to warm the long, dark winter days that are on the way!
Now your turn! Tell me… what are your mind's-moment memories from this summer? I'd love to hear from you.
Yours in health and healing,
Donna