Managing Everyday Childhood Illnesses with Homeopathy for the Beginning
Home Prescriber: Level 1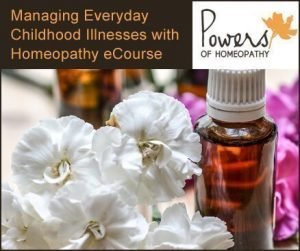 You're a parent who makes informed decisions about health. You choose all natural and organic. Despite your healthy choices your kids can, and do, get sick. All children get their 'firsts'. The first skin rash, first tooth, first diaper rash, first fever, first cough/cold and first fall/bump/bruise can be worrisome.
There's no denying that having a sick kiddo can be scary, but it's through infectious illness that our children build strong, resilient immune systems.
So, how do you strengthen the immune system while also supporting healing when your baby/child is sick?
Homeopathy has the unique ability to support and heal at the same time…which has the added bonus of conferring life long immunity.
Join other like-minded parents and learn what homeopathic remedies you can use to manage all the 'firsts' of childhood ailments. Start building strong immune systems today.
What's the Commitment?
– 5 weeks, once weekly on Saturdays 11AM-12:15PM Mountain Time
– April 8, 2017; April 15, 2017; April 29, 2017; May 6, 2017; May 13, 2017 (NO CLASS April 22, 2017)
– 1-hour webinars with PowerPoint Presentation and 15-minutes allowed for Q&A after presentation.
What's the Cost?
99.00 CDN for the first 10 people to register. Once those spots are filled, price goes up 129.00
Basic information about the illnesses with homeopathic remedy suggestions for the ailments:
April 8, 2017
How Much, How Often, How Strong?
Homeopathic prescribing for Acute Illnesses – Dosage, Frequency and Potency
April 15, 2017
Mother's Health – Morning sickness, birthing remedies, mastitis, post partum depression.
April 29, 2017
Infant/Child Health – cradle cap, mouth sores, diaper rash, colic, vomiting/diarrhea
May 6, 2017
Respiratory – croup, coughs, colds, bronchitis, ear infections, sore throats.
May 13, 2017
Accidents/injuries, burns, scrapes, and bruises, broken bones, sprains, and athletic injuries.