I am thrilled to offer you the
Homeopathy Starter Kit – Free!
The Homeopathy Starts Kit is a collection of videos, and digital magazines and eBooks that will help you understand the basics of homeopathy. If you like what you see, you can delve in deeper to the more comprehensive courses in your own time.
Homeopathy was a game changer in our home.
I remember when I was first started out with homeopathy. My son had one of those amazing overnight 'cures' with 2 little granules! This was a healing modality I wanted to learn. I intuitively knew that this was the medicine that made sense. Rather than suppressive of symptoms it was supportive of self-healing, a medicine that works with the natural immune system.
Specials diets, expensive supplements and costly regular appointments with specialists gave some good results but with homeopathy? The experience was a health game changer.
I stopped all the supplements and seemingly endless medical appointments. I learned that I could use homeopathy at home for acute illnesses and accidents/injuries. No more over-the-counter and prescription medicines except in situations where the care was beyond what I could do at home.
This is what I want for you.
With this starter kit you will have what you need to learn the basics of homeopathy. I have set up the information so that most of the questions you might have (but were afraid to ask) are answered. And when you are ready to step up the learning, you can sign up for courses where I will guide you so that you can use your homeopathic remedy kit safely and successfully in acute ailments.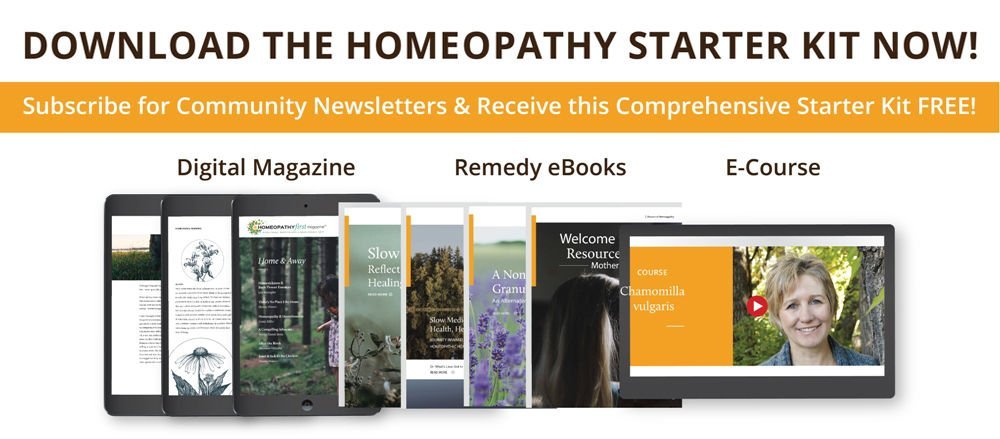 Fill in your Details below…